Since the 2011 flood disaster, a comparison to the devastating flood event is always made whenever we are faced with unexpectedly high rainfalls in the rainy season. When quickly rising flood levels prompt many of us to start questioning if the 2011 disaster is repeating itself, water and irrigation authorities make attempts to reassure that flood preventive measures are in place. But reactive flood mitigation actions such as water pumps and emptying dams are unjust and often fail to protect us from flooding.
Perhaps the most severe drought in two decades in mid 2016, leading up to the 2016-2017 flood disasters that came close to becoming another historical crisis should have reminded us that the 2011 disaster can occur more frequently. Claims such as "It's a once-in-a-century-event" and "…we won't see it again in this lifetime…", are a common misconception, highlighting a lack of understanding of how climate change will affect rainfall, storms, and seasonal patterns, and that once-in-a-century-events can occur more regularly.
Patong, 2021 | Taken by Somkid Taperat
In the last decade, Thailand has suffered from the worst flood and drought crises in its history. Climate change is continuing to intensify the water cycle and extreme weather, meaning more intense storms and extreme water-related events can be expected. According to the Global Climate Risk Index 2021 of Germanwatch, Thailand ranks 9th on the list of countries most affected by extreme weather events in the last two decades. This year marks the 10th anniversary of the 2011 flood disaster when over 2,000 factories in all five industrial estates located in the Central low-lying floodplains were inundated. The largest disaster in history exposed the persistent problem of urban planning and land use control and the ineffective capacity in decision-making to regulate large-scale water and irrigation infrastructure under conditions of uncertainty.
This year, as Tropical Storm Conson is slowly moving towards the South China Sea, we are reminded once again of the 2011 flood disaster. Many breathe a sigh of relief, welcoming much needed rain to fill up the country's critically empty reservoirs, as last year's worst drought in 40 years and late arrival of the rainy season in 2021 have diminished water supplies. The others are dealing with worsening floods caused by a strong southwest monsoon the previous week. A couple of days before the intensifying storm makes landfall, irrigation authorities begin to discharge water from the brimming dams to allow room for the coming rain, further adding misery to those on saturated floodplains.
Evidently water management challenges in Thailand are becoming increasingly complex due to growing demand, rapid urbanisation, land use change, and outdated urban water systems and irrigation infrastructure, reinforced by the consequences of a changing climate. The dramatic cycle of oscillation between flooding and drought is occurring more frequently. These recurring water crises reflect failures to understand the compounded issues of urbanisation and climate change, involving the complex social-ecological-technological systems in water management from weather forecasting and climate projections through to decision-making for equitable water distribution and just flood mitigation measures.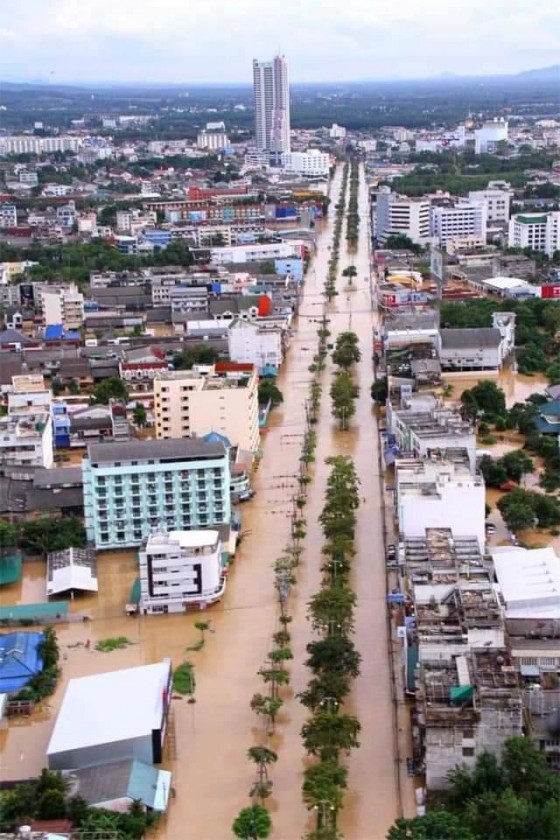 Hat Yai, 2010
Ten years on, there have been some questionable policy responses to water resources management and urban planning. The recent restructuring to streamline water-related mandates and reduce the redundancy of more than 40 agencies across seven ministries has led to the establishment of a centralised, single command agency. Ignoring the core principles of integrated water resources management that require local participatory planning and actions based on local knowledges and understanding of water-related issues, the agency still focuses on mega projects, building more dams and large-scale irrigation, and short-term mitigation measures such as digging artesian wells or small ponds in drought-stricken areas.
Ignoring increasingly complex climate, water and land use challenges, the development of new special economic zones and economic corridors in climate sensitive and risk-prone areas is being accelerated through the implementation of Thailand 4.0 strategy and recent reform of urban planning policy. With ambitious plans to lift the country out of the middle-income trap, the new urban planning policy is set to speed up construction of large-scale transport infrastructure, such as high-speed trains, and support investment and development in economic and industrial zones. This comes at high costs of reducing public participation and environmental impact assessment processes.
For many, the storm Conson, severe flooding, and the Covid-19 crisis are currently at the forefront. The impacts of Covid-19 have led the government to adopt the term 'resilience' for the first time and prompted many of us to rethink our urban futures. We are at a crossroads. Longer term approaches and solutions that are inclusive and equitable are urgently needed not only for the recovery of water-related or Covid-19 crises, but also to deal with intensifying issues of climate change, urbanisation, and water stresses.
---
Author
Dr Pakamas Thinphanga
Pakamas is an independent researcher. She is currently leading a five-year project funded by the European Union, as Project Director of 'Strengthening Urban Climate Governance in Thailand' at the Thailand Environment Institute (TEI). Pakamas is a Co-investigator of UK Global Challenges Research Fund project 'Transforming Political Capabilities for Equitable Resilience'.
ป้ายคำ